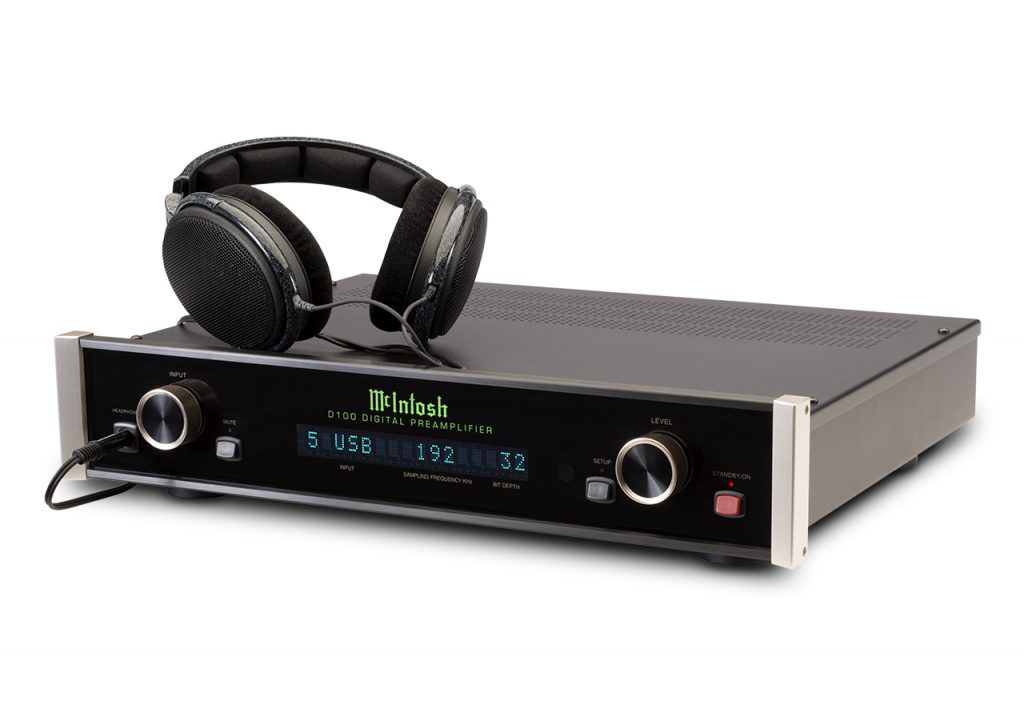 SERIES: D
100 Digital Preamplifier
TYPE:
Preamplifier
The McIntosh MC302 Amplifier, C2300 Tube Preamplifier, MCD301 SACD/CD Player, MR88 AM/FM/XM/HD Tuner and XR100 Loudspeakers are logical companions for the D100 Digital Preamplifier. Your authorized dealer can provide additional information.
The D100 is a remote controlled digital stereo preamplifier with five digital inputs and both variable and fixed volume audio output. It is a simple solution to add digital music to your existing McIntosh system.
The D100 is also flexible enough to be used a headphone amplifier. Just connect your digital sources and a pair of headphones for a personal listening experience.
Advanced Quad Balanced, Digital-to-Analog circuitry is capable of handling the finest commercial recordings, assuring the best sound from your valuable music collection.
D100's powerful built-in headphone amplifier will elevate the sound of your headphones to deliver the ultimate personal listening experience.
Frequency Response
+/-0.5dB from 4Hz to 20kHz
+0.5/-3dB from 4Hz to 68kHz (source dependent)
Total Harmonic Distortion 
0.0015%
Rated Output Voltage
Fixed 2.0 Vrms Unbalanced, 4.0 Vrms Balanced Variable: 0-8 Vrms Unbalanced, 0-16 Vrms Balanced
Headphone Load Impedance 
20 to 600 Ohms
Overall Dimensions (W x H x D)
17-1/2" (44.54cm) x 3-7/8" (9.8cm) x 16" (40.64cm) including the front panel, knobs and cables
Weight
13.5 lbs (6.1 kg) net, 28 lbs (12.7 kg) in shipping carton
OTHER PRODUCTS: PRODUCTS / PREAMPLIFIERS