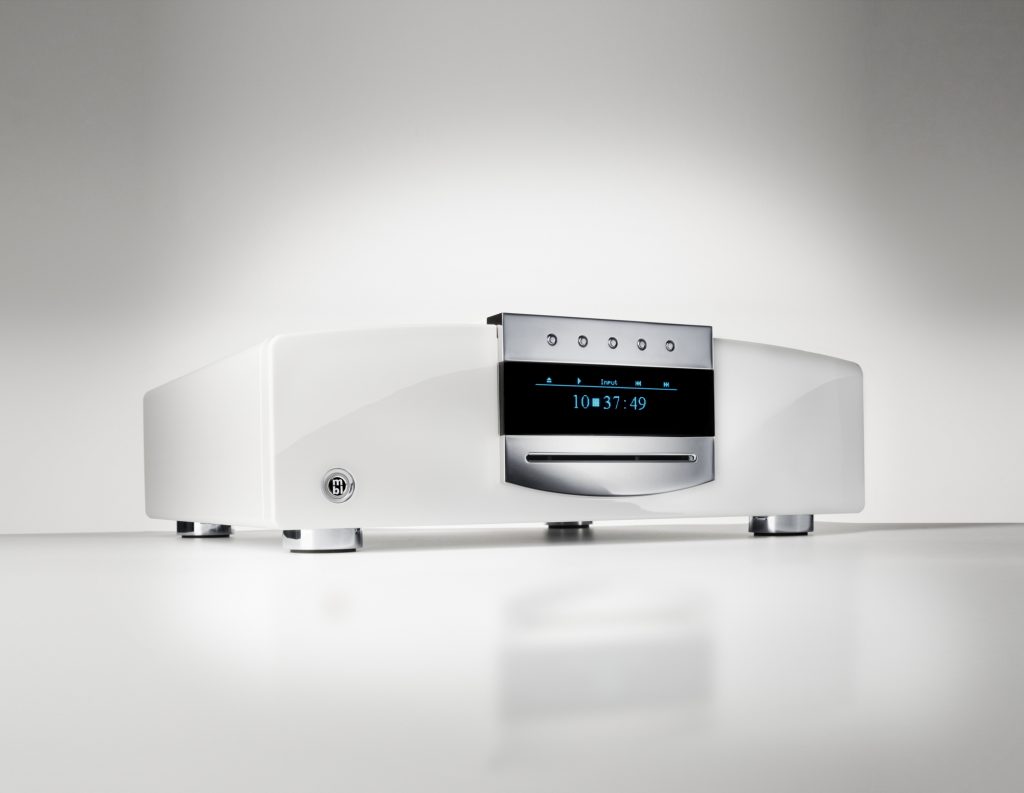 The mission was to achieve perfect symbiosis – an ideal fusion of high end sound with an innovative design concept. MBL's teams of developers and designers worked hand in hand in engineering the concept and have broken fresh ground. The outcome is now a new range of superb high quality high end audio – the MBL Corona Line. The Corona Line's minimalist design is a new byword for restrained understatement combined with classical elegance which makes it the perfect match for almost any type of room. The Corona Line takes its name from the 40mm button shaped like the MBL logo and mounted on the upper side in a corona of light. This signature button serves to regulate the brightness of the display. All products in the range have been carefully coordinated to complement one another and when taken together as a single family unit radiate an atmosphere of truly captivating serenity.
The Corona Line hasn't just broken the mould in design terms alone; technically speaking too this new product line sets new standards. The outer solid aluminium casing contains a second casing of reinforced steel which screens off the electronics in magnetically shielded slots with full electrical isolation of the power supplies units and transformers. The CD player features a state of the art high quality Slot drive and digital RCA and Toslink inputs as well as a native USB dock for CD audio data. A novel intelligent MBL SmartLink network enables the devices to talk to one another. This means that all associated input signals are controlled by the Pre-Amplifi er or Integrated Amplifi er and a simple touch of the button on a device or the remote control is all that you need to put the whole Corona system on standby. The power consumption is then under 1 VA (Green Standby).
The MBL Corona Line is a fully rounded statement of our proven expertise in audio engineering and design – a consummate fusion of perfect acoustics and design. A truly alluring entry to the world of high end audio.
General
Weight
15,5 kg / 34.2 lbs
Dimensions (without cables)
W 45,0 cm / D 44,5 cm / H 14,5 cm
W 17.7 in / D 17.5 in / H 5.7 in
Dimensions with packaging
W 59,0 cm / D 54,0 cm / H 35,5 cm
W 23.2 in / D 21.3 in / H 21.9 in
Line Voltage
230 Vac / 50 Hz or
115 Vac / 50/60 Hz
Power consumption
in stand by < 1 VA
in idle < 20 VA
Maximum 21 VA (during 'Play')
Digital Inputs
1 x Toslink

Connection
Snap-In-Type
Wavelength
650 nm
Nominal Input Power
10mW
Working input power range
3mW – 30mW  
electrically/galvanically Isolated
optically isolated 1 x S/P-DIF
Connection
RCA
Input Impedance
75 Ohm
Nominal Input-Level
0.5 Vpp
Working Input-Voltage Range
0,2 – 5 Vpp
electrically/galvanically Isolated
galvanically isolated
USB Input
Connection
USB Type B
Sampling Frequency
44.1 kHz, 48 kHz, 88.2 kHz, 96 kHz  
Mode
MCMI (Master Clock Mode Interface), Asynchronous USB
electrically/galvanically Isolated
galvanically isolated  
Operating System Drivers
Natively supported, without any special driver
Digital Outputs
1 x S/P-DIF
Connection
RCA
Output Impedance
0.5 Vpp
Nominal Output-Level
75 Ohm
electrically/galvanically Isolated
galvanically isolated
Analog Outputs
Maximum Output Level
Unbalanced RCA Out
2 V @ 0 dBFS
Balanced XLR Out
4 V @ 0 dBFS
Output Impedance (RCA / XLR)
100 Ohm / 200 Ohm
Absolute Phase (RCA / XLR)
In-Phase / Pin-2 = In-Phase
Total Harmonic Distortion (THD)
< 0.001% @ 0 dBFS
Signal to Noise Ratio (RCA / XLR)
> 110 dB (A-Weighted) @ 0 dBFS
Channel Separation
> 100 dB @ 1 kHz
CD Section
CD Mechanism
Slot drive, front loaderSlot drive, front loader
Media
Standard compact disc (Red Book), 12 cm and 8 cm discs
Formats
CD, CDR, CD-RW (Multi-Read)
Book-Type
CD-DA, CD-Extra, Extended CD, CD-Enhanced
Laser type
780 nm (reads black CDR)
Resolution / Sample Rate
16 Bit / 44.1 kHz (CD-Digital-Audio)
CD-Text
Album Title, Album Artist, Track Title, Track Artist
DAC Section
Resolution
24 Bit
Sampling Frequencies
44.1 kHz, 48 kHz, 88.2 kHz, 96 kHz
D/A Converter Type
Multi-Bit Delta Sigma
Digital Oversampling Filter
Psychoacoustic optimized filter of 4/5 Minimum Phase and 1/5 Linear Phase
Analog Output Filter
Group Delay Optimized Bessel Filter @ > 40 kHz
OTHER PRODUCTS: PRODUCTS / SOURCES