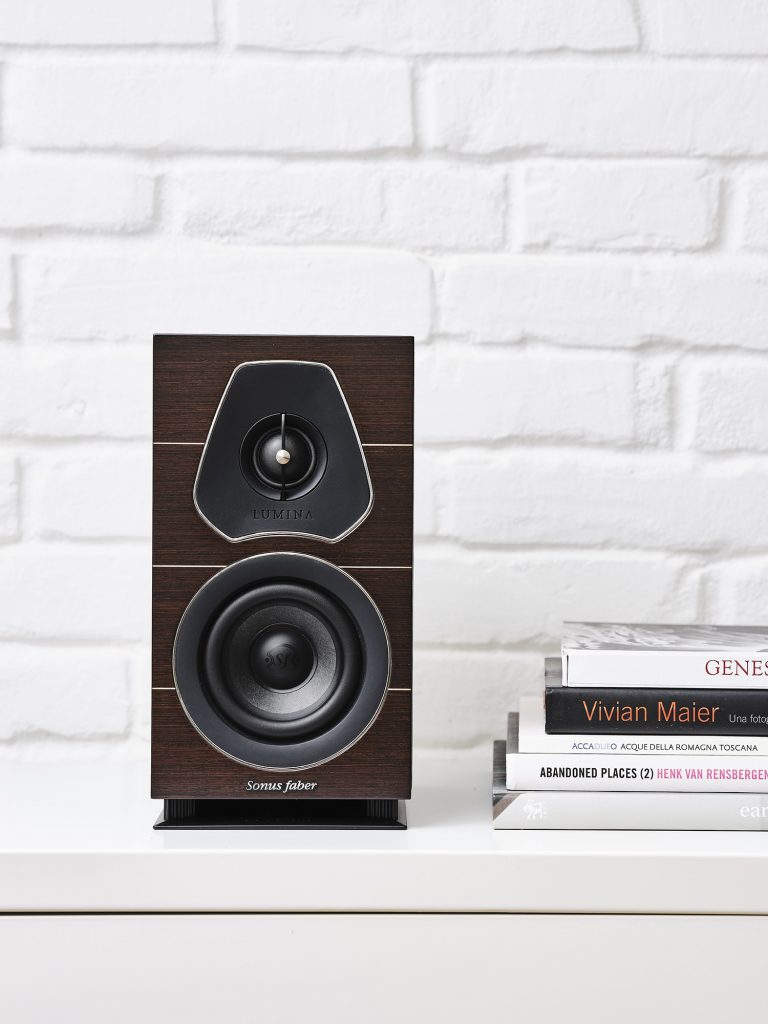 SERIES: LUMINA
I
TYPE:
Loudspeakers
The Lumina I is THE MOST COMPACT HIGH – END PASSIVE LOUDSPEAKERS 

in its category: this feature makes it extremely easy to place turning it into the perfect choice for smaller spaces. Despite its dimension, Lumina I is able to deliver tons of musical engagement.
LUMINA, The taste of simplicity.
Today, more than ever, it is important to find TIME FOR OUR – SELVES , time to savor truly relevant things in life and to learn to appreciate those precious moments. We recently learnt to give importance to our LIVING SPACES : our houses have always been the space where those PRECIOUS MOMENTS were accommodated, have always being the place where you can find yourself over and over again.
MUSIC is one of the basic ingredients defining the way we live our homes because it makes us feeling better, it gives SHAPE T O OUR EMOTIONS , it creates a sense of belonging and participation that starts in our houses and ends producing a cohesive society.
EVERYONE DESERVES THE TRUE SOUND OF MUSIC IN HIS HOME.
Simplicity is the key concept that guided the design of the brand-new Lumina collection THE NEW "FIRST STEP" INTO THE SONUS FABER WORLD.
Lumina is MADE IN ITALY, EASY TO SET – UP, able to provide GREAT SOUND performance at an ACCESSIBLE PRICE POINT, empowering everyone to enjoy a true Sonus faber experience. 
"Lumina", in Latin means "light", but also source of energy and life. To us, this name has also additional meanings, comprise in the letters that make up the whole name, becoming a sort of acronym: 
"LUXURY", in our view, is the taste of precious moments, the discovery of refined details and the understanding of truly relevant things. This world talks about our commitment in delivering a luxury experience of music in everybody's house, and our tradition of refined materials and careful craftsmanship.
"MINIMAL" refers to a design approach directly aiming to the essence of things and believing that "Less is more". The collection comprises the core values of the brand combining them with the ability of delivering an incredible performance in a simple design package.
"NATURAL" is linked to the pursuit of the most natural sound reproduction: the main Sonus faber commitment, as established in the brand manifesto. The electro-acoustic project is targeting solutions designed for medium to small environments, with no compromise in terms of performances and always able to deliver musicality.
Lumina collection features three models: Lumina I, an extremely compact bookshelf speaker, Lumina III an elegant floor-standing model, and Lumina Center a center channel speaker option.
System
2-way shelf loudspeaker system. Vented box design.

Tweeter: 29mm high definition DAD driver. Visco-elastically baffle decoupling. Sonus faber design.
Drivers
Midwoofer: 120mm cone driver. Ultra-free compression basket, Sonus faber design. Special custom diaphragm made with a blend of traditional cellulose pulp and other natural fibers, developed according to the most natural sound. Ultra-dynamic performance and high linearity.
Crossover
Optimized amplitude/phase response for optimal space/time performance. Crossover frequency: 2000 Hz.
Frequency response
65 Hz -24.000 Hz
Sensitivity 
84dB SPL (2.83V/1m)

Nominal impedance 
4 ohm
Suggested amplifier power output
30W – 100W undistorted signal
Long-term max input voltage (IEC-268-5) 
15.5V rms
Dimensions (HxWxD) 
280 x 148 x 213 mm / 11 x 5.8 x 8.4 in
Weight 
4.4 Kg each / 9.7 lb each
OTHER PRODUCTS: PRODUCTS / LOUDSPEAKERS