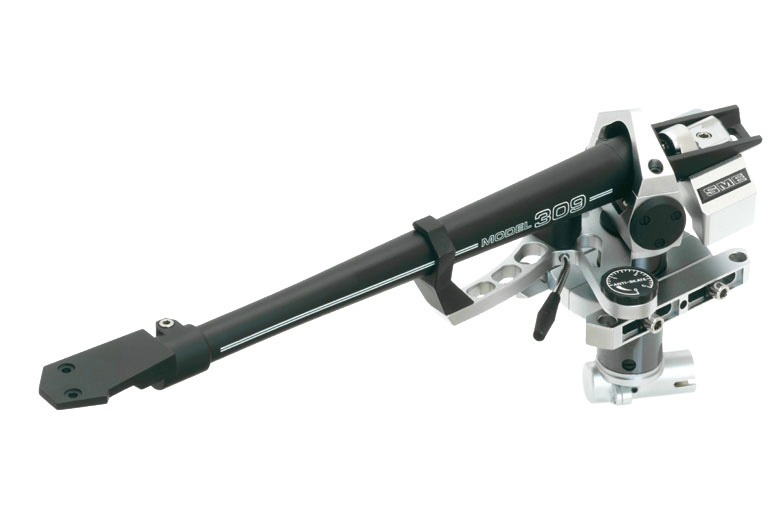 The Series 300 broadens the application of SME technology. A one piece magnesium tone arm, available as Model 309 and Model 310.
The detachable magnesium headshell has a new style coupling, providing the convenience of rapid cartridge interchange without loss of rigidity.
Our designers can be justly proud of these models which offer a performance and manufacturing excellence unmatched by many more expensive models.
EFFECTIVE MASS
9.5g
CARTRIDGE BALANCE RANGE
6 – 17g
VERTICAL TRACKING FORCE
0 – 2.5g
MAXIMUM TRACKING ERROR
0.013°/mm
PIVOT-STYLUS DISTANCE
232.2mm
PIVOT-SINDLE CENTRE DISTANCE
213.4mm
AUDIO LEAD
1.2m

OVERHANG
16.98mm

WEIGHT NET
717.0g
DISTANCE FROM PIVOT TO TURNTABLE CENTRE
215.35mm
CARTRIDGE FIXING CENTRES 
12.70mm
OFFSET ANGLE
23.204°
LINEAR OFFSET
91.54mm
HEIGHT ABOUT MOUNTING SURFACE
max. 87.90mm
min. 56.40mm
HEIGHT OF RECORD SURFACE ABOVE
MOUNTING SURFACE
55.90mm max
24.40mm min
DEPTH BELOW MOUNTING SURFACE
56.75mm
BALANCE WEIGHT RADIAL CLEARANCE
73.0mm
CLEARANCE BETWEEN CABINET LID AND RECORD SURFACE, ASSUMING CARTRIDGE HEIGHT AT 17.0mm
37.0mm
OTHER PRODUCTS: ACCESSORIES / TONEARM