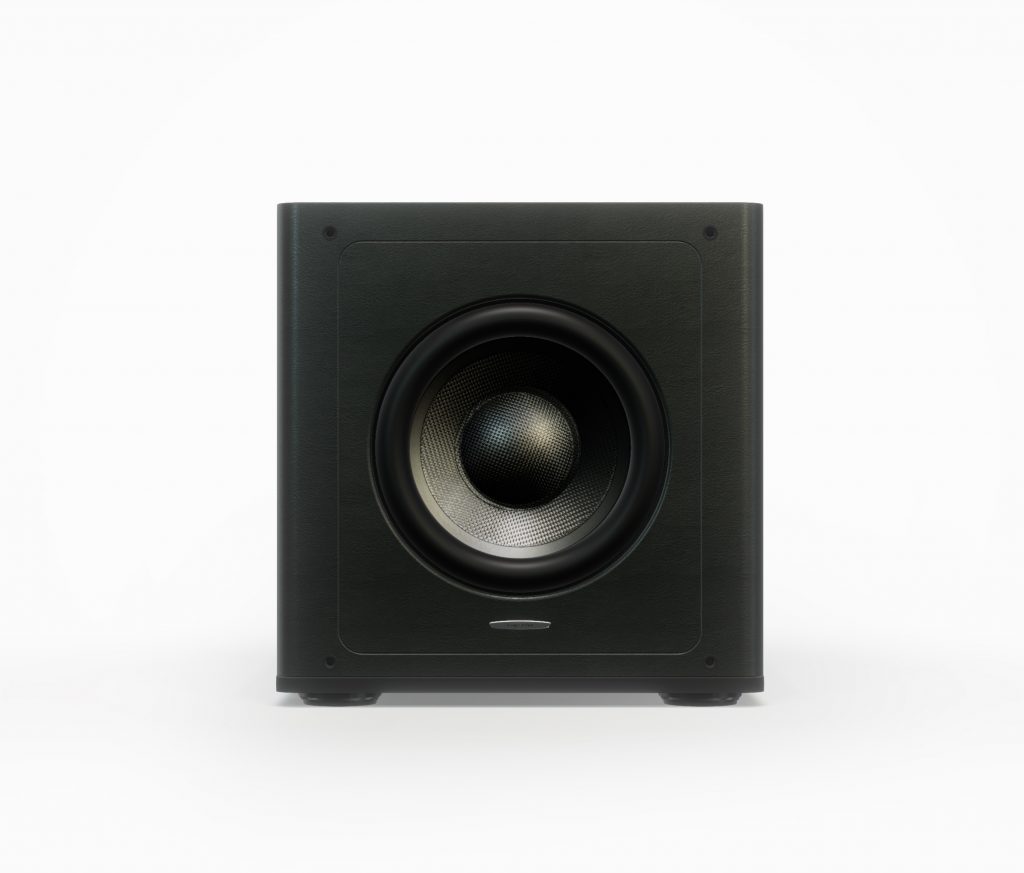 SERIES: GRAVIS III

TYPE:
Subwoofers
THE BRAND'S NEWEST ADDITION TO THE AWARD-WINNING COLLECTION WILL BE PRESENTED AT THIS YEAR'S INTEGRATED SYSTEM EUROPE SHOW.
The Gravis III is the intermediate model among previous products in the Gravis collection, completing the Olympica Nova line introduced in September of 2019. Aesthetically, Gravis III follows the style of its predeceasing products, with the body enriched by a black leather covering and discreet Piano black wooden finish. However, the subwoofer's top finishes of Wengè and Walnut matte create the connection to the newer Olympica Nova collection.
The removable fabric grille with metal pins covers a powerful 10'' (250 mm) ultra-long throw driver including a Trilaminated sandwich cone diaphragm with a layer of honeycomb in between, managing the driver's excursion and resistance flexing.
The stiffness of the cone merged with its extreme lightness allows the subwoofer to produce the tightest and most accurate bass reproduction possible.
The Class AB amplifier can produce 600W into an 8-ohm load. The choice of the AB class, compared to simpler solutions, contradicts the Sonus faber well-known harmonious richness and musicality, while the huge energy reserve is responsible for a fast response and wide frequency range.
The latter is further linearized due to a specially designed Digital Signal Processor, implemented in the input preamp stage, that allows adjustments in order to optimize dynamic impact and sonic reproduction depth, satisfying every application need.
SPEAKER SYSTEM TYPE: 
Sealed box loading, single driver, active subwoofer
DRIVER:
1 x 250 mm (10") long throw, sandwich honeycomb cone, wide rubber surround LF unit.
AMPLIFIER TYPE:
High performance, Class AB
POWER OUTPUT: 
600 W (nominal), 900 W (peak)
FREQUENCY RESPONSE:
25 Hz (@- 6dB, acoustic Linkwitz 4th order roll-on, default setting) to Fc (user continuously adjustable).
MAINS INPUT VOLTAGE: 
100-120Vac – 50/60Hz or 220-240 Vac – 50/60 Hz. Factory selected.
FUSE:
T6.3A L250V (100-120 Vac – 50/60 Hz)
T3.15A L250V (220-240 Vac – 50/60 Hz)
CONTROLS:
Direct access Master volume; APP control featuring: 4 selectable pre-sets, volume, continuously adjustable crossover frequency (40 to 150 Hz , filtering slope 24 dB/oct); continuously adjustable signal phase (0° to 360°); up to 8 parametric EQ filters , Delay (1 to 20 ms); automatic room calibration ; selectable threshold auto power on/off.
AUDIO INPUTS:
2 x LINE (unbalanced), Left and Right/LFE – RCA plugs
1 x LINE (balanced) – XLR plug.
HIGH LEVEL: 
– Neutrik 4-pole Speakon© plug
ADDITIONAL FEATURES:
Wireless connection (receiver included and transmitter unit available separately)
DATA CONNECTION:
USB (firmware update)
RJ45 (ext control)
POWER CONSUMPTION:
< 2 W (Stand-by) 700 W (rated power)
FINISH:
Black leather (cabinet) Piano Black, Wengè Matte, Walnut Matte (top)
DIMENSIONS (HxWxD):
415 x 400 x 495 mm
16.3 x 15.7 x 19.5 in
WEIGHT:
26.7 Kg, 58.8 lbs
SUPPLIED ACCESSORIES:
User manual
App Quick Guide
AC Power cord
10m/32.8 ft Neutrik Speakon© interconnection cable
OTHER PRODUCTS: PRODUCTS / LOUDSPEAKERS