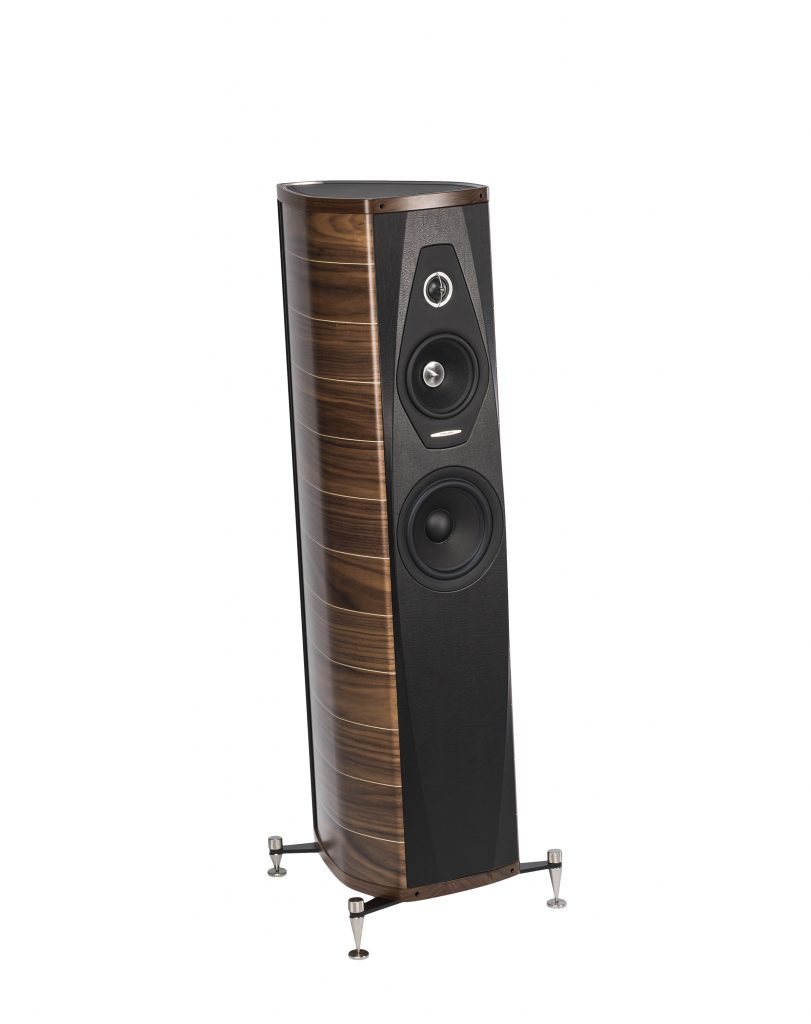 SERIES: Olympica
II
TYPE:
Loudspeakers
The theater represents the pinnacles of harmonious design, proportions, and sensitivity; a search for beauty, wonder, exquisite materials and emotions. It is a temple of geometric perfection in the voice of music, a vessel in which sound seamlessly expands as an exemplary reference model of acoustic enhancement.
Sonus faber is also borne of this same fertile ground. From its very beginnings, the teachings and history of the region have been infused with the fundamental principles applied to the musical instruments created by Sonus faber; products which resonate with the harmony of the city and art that inspired them.
Nevertheless, the essential details that deliver the sound of the .8 series have been tweaked in subjective testing, and the result is very close.  There are a couple new wrinkles to the "preamp" portions of these two products.  The volume control circuit outputs are buffered by 6 dB gain stages whose input JFETs present many megohms of load, getting attenuator distortions down below the .001% line.  The extra gain allows optimal figures for the power amp stages, and offers improvement over the previous "passive" circuits
The output noise figures of the integrated amplifiers are a little higher than the stand alone amplifiers, but after you figure in the noise of a separate preamp external to the amplifier, it comes out about the same, so I don't think you lose out on noise performance.
Did I mention that we included the meter on these?  Yes, we have the meter just like the other Point 8 amps.
Finally, credit goes to Wayne Colburn, usually our preamp designer, for the work integrating new preamp circuits into these amplifiers.
Wayne and I and the rest of the people at Pass Labs sincerely hope these products enrich your listening experience for many years.
SYSTEM
3 way floorstanding, paralaminar stealth flow vented loudspeaker.
CABINET
Enhanced "Lyre shape" design, progressive thickness triple curvature cabinet walls damped spread resonance spectrum system. Solid walnut vertical clamps.
TWEETER
Sonus faber "Arrow Point" DAD (Damped Apex Dome, synthesis of the classic dome and ring transducer) 29XTR2. A Sonus faber designed 29 mm moving coil driver. The ultra dynamic linearity is given by the new Neodymium motor system.
MIDRANGE
Sonus faber M15XTR. A totally Sonus faber designed 150 mm ultra dynamic linearity midwoofer. CCAW wire is used on a composite former "eddy current free" voice coil. The dynamically linear magnetic field motor incorporates triple Kellog/ Goeller rings. A special custom diaphragm is made with a real time air dried non pressed blend of traditional cellulose pulp, kapok, kenaf and other natural fibers, developed according to the most natural sound. To further inhibit any residual cone coloration we are using a transparent viscous surface damping coating. Special coaxial anti-compressors is used, designed to remove cavity resonance and distortions.
WOOFER
Sonus faber woofer W18XTR  is a direct descendant of the 9" speakers used in "Aida". The salient aspect of the woofer, is to merge high definition, the prerogative of the 'sandwich' cones, and an identity in synergy with the sound of the midrange. This goal was reached by developing a "sandwich" membrane that combines a "heart" in hi-tech rigid syntactic foam with external layers in treated cellulose pulp. The 1.5" voice coils "controlled Eddy Current", together with the powerful long stroke magnetic motor, are guarantees for excellent performance, both from the dynamic point of view and that of linearity.
CROSS-OVER
Non-resonant "progressive slope" design, optimized amplitude/phase response for optimal space/time performance. "Paracross topology" on both tweeter hi-pass and midrange band pass, cross-over points 250 hz – 2.500 Hz.
FREQUENCY RESPONSE
40 Hz – 30.000 Hz, tuning port included. SENSITIVITY 88 dB SPL (2.83 V/1m).
NOMINAL IMPEDANCE
4 ohm.
SUGGESTED AMPLIFIER POWER OUTPUT
50W – 250W, without clipping.
LONG-TERM MAXIMUM INPUT VOLTAGE (IEC-268-5)
20V rms.
FINISH
Natural walnut or graphite multicoated with medium gloss ecologically sensitive lacquer.
DIMENSIONS
1055 x 370 x 472 mm (HxWxD).
OTHER PRODUCTS: PRODUCTS / LOUDSPEAKERS