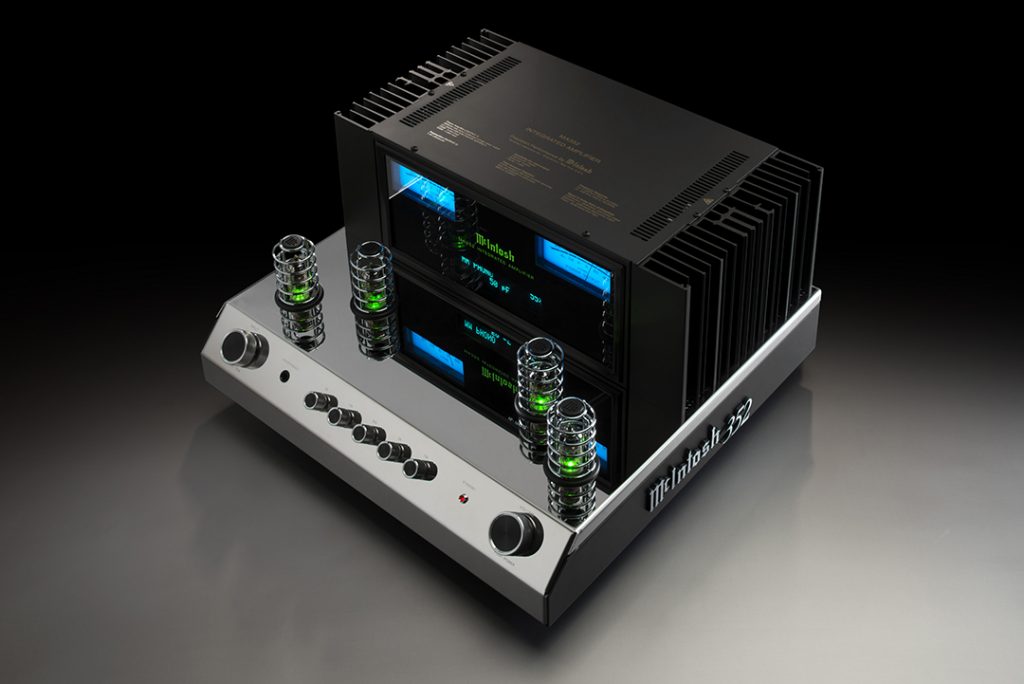 SERIES: MA
352

2-Channel

Integrated Amplifier




TYPE:

Integrated Amplifier
The MA352 Integrated Amplifier is a hybrid design that combines the finest of vacuum tube and solid state audio design principles. The result is an eye-catching amplifier that enjoys the best of these two opposing audio philosophies all while reproducing music at the highest quality level.
The MA352 is packed with numerous McIntosh technologies including:
Our patented Power Guard® technology that monitors the output signal for over driving and makes real time micro adjustments to the input signal to prevent harsh sounding clipping that could potentially damage your speakers
Our fuse-less short-circuit protection circuit Sentry Monitor™ that will disengage the output stage before current exceeds safe operating levels and then resets automatically when operating conditions return to normal
McIntosh Monogrammed Heatsinks™ which are connected to advanced high current output transistors that minimize thermal equilibrium lag (or warm-up) time
High Drive headphone amplifier with Headphone Crossfeed Director (HXD®)
A 5-band analog tone control allows for manual adjustment of your favorite recordings (each band adjustable by ± 12dB)
Home Theater Pass Through lets it be seamlessly integrated into a home theater system
Power Control to send power on/off signals to connected McIntosh components for easy system power up and shutdown
Data Ports to send remote control commands to connected source components
The MA352 has 2 balanced and 3 unbalanced inputs plus 1 Moving Magnet phono input with adjustable loading for connecting a turntable. It has gold-plated speaker binding posts to help prevent corrosion and ensure a quality signal is sent over your speaker cables to your speakers. A stereo preamplifier output is available for connecting a higher-powered amplifier; it can also be used to connect 1 or 2 powered subwoofers for added low frequency performance.
An all analog design, the MA352 has a vacuum tube preamplifier section that is powered by a pair of 12AX7A and a pair of 12AT7 vacuum tubes; its output stage is a direct coupled solid state amplifier that outputs 200 Watts per channel into 8 Ohm speakers or 320 Watts per channel into 4 Ohm speakers – enough power to properly drive virtually any set of loudspeakers. Dual scale blue Watt meters give an accurate readout of power output for both speaker impedances.
Hybrid design: vacuum tube preamp and solid state power amp
200 Watts into 8 Ohms
320 Watts into 4 Ohms
5-band tone control
Preamplifier Stage:
Two 12AX7A and two 12AT7 vacuum tubes
Output Stage:
Direct-coupled solid-state amplifier
Power Output:
200 Watts per channel into 8 Ohm speakers or 320 Watts per channel into 4 Ohm speakers.
Total Harmonic Distortion:
0.03% maximum from 20Hz to 20kHz
Signal to Noise Ratio (High Level):
93dB
Tone Controls:
5-Band Analog
Inputs:
3 Unbalanced
2 Balanced
1 Moving Magnet 
Outputs:
2 Subwoofer (mono)

Headphone Amplifier:
1/4" High Drive with Headphone Crossfeed Director (HXD®); powers all headphones from 20 to 600 Ohms.
Overall Dimensions (W x H x D):
17-1/2" (44.5cm) x 9-7/8" (25.1cm) x 20-1/2" (52.1cm)
Weight:
66 lbs (29.9kg) net, 75 lbs (34.0kg) in shipping carton
For the Consumer's Protection:
In order to ensure the highest level of customer satisfaction, new McIntosh products may only be purchased from an Authorized McIntosh Dealer; and, with certain limited exceptions may only be purchased over-the-counter or delivered and installed by the Authorized McIntosh Dealer.
McIntosh does not warrant, in any way, products that are purchased from anyone who is not an Authorized McIntosh Dealer, or that have had their serial numbers altered or defaced.
OTHER PRODUCTS: PRODUCTS / INTEGRATED AMPLIFIERS